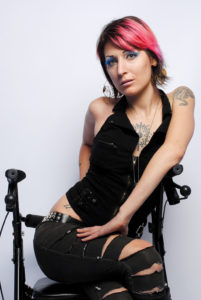 I was first introduced to Anomie Fatale through a comedian friend of mine when he showed me a video from one of her burlesque performances. In it, Anomie stands in a miner's helmet, singing "Sixteen Tons" in a seductive alto voice, as she delicately pulls each item of clothing off of her body. To say that Anomie can sing is an understatement; her voice is the kind many singers wish they had. The smooth quality, the low tone, and her perfect pitch kept me watching. My eyes moved to the background of the video, looking to see if I recognized the venue, when I noticed in the right side of the frame a walker was parked next to where Anomie was standing.
I watched another video. In this one, Anomie is dressed in a peacoat with a beautiful fascinator in her hair. The unmistakable sounds of Edith Piaf's "Non Regrette Rien" start, and Anomie begins to sing an English version of the French classic as she slowly removed her coat, her dress, and then finishes with a burst of "No Regrets!" as the last of her clothing falls from her body. This video is more brightly lit, and the walker is more visible on the right side of the stage, this time closer to Anomie. I asked about the walker and was told Anomie had been diagnosed with Ehlers Danlos Syndrome in 2008. She was severely ill and had several surgeries, which saved her life, but left her movement severely limited. Anomie could stand and move around in small spaces, but the walker was always within reach.
It takes guts to get up in front of people and take your clothes off. I takes even more to do that and sing in key. Doing those things with a fully-able body is often challenging, and Anomie's videos show courage and passion. After my friend talked with me a bit more about Anomie's work, including her modeling, I knew I wanted to photograph her as part of the Philadelphia Project.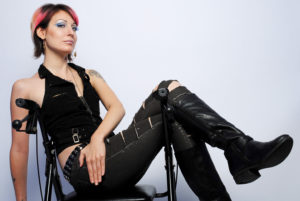 What resonates in her photos is the strength she projects with her body language. We got some fantastic shots of her during our session, and she talked with us about her other projects. Not only is she a performer, model, musician and recording artist, but she is a disability advocate and activist. She has been involved in advocacy for issues including accessibility, housing, and employment for disabled individuals.
Anomie can tell her story far better than I can. For a full biography, with free music, videos, and a ton of images, check out anomiefatale.com.