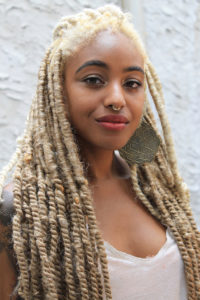 Andi and I have been photographing the staff of Infinite Body Piercing for years. We use these photos for head shots for the site and to use as promotional images. While we have a good archive of images, we're always looking to expand our portfolio, especially with models, like Lorelei Black, who have a striking look.
Lorelei was one of a group of "alternative models" I had been following on Tumblr. These are women (and a few men) who were freelance models for hire for photographers, both amatuer and professional. Many are photographers themselves, and many travel extensively, modeling as they go. When Lorelei posted that she would be in Philadelphia one weekend in September of last year, I contacted her to see if we could get her for a morning shoot.
While Lorelei is from Brooklyn, she has a Philly sensibility to her. (Brooklyn and Philadelphia are in a lot of ways "sister cities" to a lot of the youth culture happening on the East Coast.) We thought she would make a great model for promotional images for Infinite Body Piercing. With Lorelei, Andi and I started compiling images for what we were starting to call our "Philadelphia Project."
More on Lorelei can be found at loreleiblack.com.