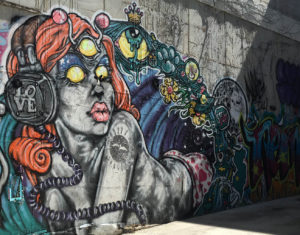 I'm friends with Jason Pfohl, from Gorilla Glass. More specifically, I'm travel friends with Jason. He is one of the handful of people, both inside and outside of the piercing industry who, though we don't talk regularly, I connect with on a very real level when our travel schedules intersect. I've been a frequent guest of his in Oaxaca, Mexico, and he will often stay with Andi and me in Philadelphia when he's visiting the East Coast.
Before a recent trip to Philly this past April, Jason emailed me saying that he would be coming through town. He was a sponsor of an upcoming art installation and performance in Philly to be put on by the NYC-based suspension group SKIN. He was traveling with a photographer who would be documenting the two days of the event. He emailed me:
I have a new concept I want to do. It is a "lifestyle" catalog that will focus on people and some new jewelry, something that is not a product catalog, but will be advertising new styles. It occurred to me that maybe we could do a photoshoot with the Infinite staff and feature you and your team for the first one. What do you think?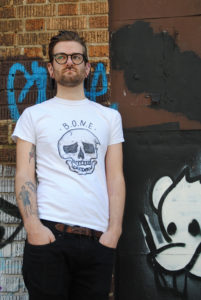 What a coincidence! I talked to him about photos that Andi and I had been working on, and my ideas for the Philadelphia Project, documenting what I thought was an underrepresented look in the larger body piercing industry. He decided to make Philly one of the city's on his photo tour to photograph the Infinite staff modeling his jewelry. We set a date, and I emailed him what piercings the staff had, and what size jewelry they needed.
We had talked about finding a location that represented Philadelphia as much as the models did, and I suggested the small, graffiti-covered alley around the corner from the studio. When Jason and his photographer, Romina Hierro, arrived in the City, it was a beautiful spring day. Perfect for photos. We spent an entire day rotating the staff, deciding on different spots, different poses, and different jewelry. We roped in everyone who was working that day, and even convinced a few employees to let us have part of their day off. I have an amazing staff, and we worked really hard to get them to show off their distinct personalities in photos, both individually and in small groups.
Romina took the bulk of the images, while I followed behind, taking behind-the-scenes shots and additional photos of the staff when they weren't posing for her. When we went through the trove of images from the day, both Romina's and mine, we knew we had some good stuff. When he returned to Mexico, Jason scrapped his original idea of a multiple-city project, and instead focused solely on the shots from Philadelphia. Needless to say, I was incredibly excited to see the proof of the book when Jason swung back through Philly again, and even more excited to see the finished product at APP this year—along with the poster and images he used for product branding. Jason was kind enough to let me include a bit of text in the back of the book, talking about the studio, and Philly in general:
Philadelphia has a vibrant and very visible piercing and tattoo culture," James says, "but it's different from what goes on on the West Coast. It's even different than what's happening in New York. There's a diversity here that's not often represented in other places—and not in the way 'diverse' is usually used, as just a reference to race, sexuality, or gender identity. Philadelphia body art enthusiasts are varied in background, income, body type, and even basic interests. There really isn't a 'Philly type' as much as there is something here that influences many different types of people.

You can see it in the clients who visit us, and in the staff employed at the studio. Philadelphia is like nowhere else.
For a limited time, the Gorilla Glass' Gorilla Lifestyle is available free for the asking at Infinite Body Piercing. Copies are also available for free through the Infinite online store. You can also read more about the photoshoot and the Philadelphia Project here.